PBM Therapy for Macular Degeneration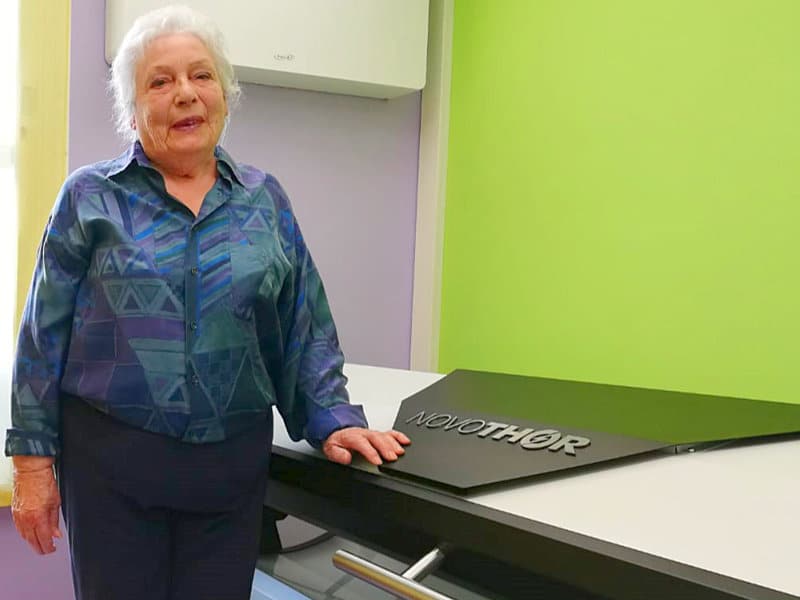 NovoTHOR® Whole Body PBM Therapy Helping 84 Year Old Bridget's Eyesight!
Age Related Macular Degeneration (AMD) is a cruel condition robbing you prematurely of your eyesight and independence. It's the number one cause of blindness as you get older. The traditional treatment involves numerous unpleasant injections directly into the eye to stabilise the Macular. There is an ever increasing body of research proving Photobiomodulation or PBM Therapy is another less invasive way to treat Dry Macular Degeneration.
One of PBM Therapy Clinic's patients Bridget gives her experience of using our NovoTHOR® whole body PBM Therapy light bed for other medical conditions. At the same time noticed that PBM Therapy improved her eye sight.
This was such as surprise to her (and to us) – why? She was told by the Ophthalmologist consultant over 2 years ago that her right wet Macular degeneration damage was permanent and would not improve. Photobiomodulation or PBM Therapy is proven to treat Dry Macular Degeneration in the acute early phase not that it could potentially help wet Macular Degeneration when the damage is long term (chronic) so this could potentially be new application of PBM Therapy if further research supports this single case finding. Of course this result may be something very specific to Bridget. *Hopefully future Random Controlled Trials (RCT's) for this sort of chronic eye damage will determine if this change is likely to be experienced by others.
Bridget is waiting now for a follow up hospital appointment (delayed because of COVID) – so they can objectively measure how much she has improved compared to their extensive records and Optical Coherence Tomography (OCT) scans. To give you an idea how much she has improved Bridget said after a trip to the local optician for some new glasses she can see 1/2 way down the optician's chart when before was she was unable to see the top letter with her right eye!
Bridget's Story
Almost 2-years ago, I noticed my sight deteriorating. Unfortunately I did not prioritise getting it checked immediately. By the time I got around to organising an eye test, the optician told me I had
Very advanced wet Age related Macular Degeneration (AMD) in my right eye
There was a great deal of dry Age related Macular Degeneration (AMD) in my left eye.
I had lost the central vision completely in my right eye – there was a large black 'hole' in the middle of everything I was looking at (when my left eye was closed). I was told I had managed as long as I had because the sight in my left eye was so good and had therefore compensated for the deterioration in my right eye.
The optician sent me straight to the hospital but after being examined, I was told they would not treat me as there was nothing that could be done to improve the sight in my right eye. My daughter immediately organised an appointment with a specialist and he agreed to administer one injection into the right eye (he also confirmed that I had dry AMD in the left eye).
Helping Bridget's sight, keeping her active and enabling her to return to the interests which she had to give up
One month later I returned to see the specialist but there was no improvement. My daughter asked if he would administer another injection and reluctantly, he agreed but said if there was no improvement from that, he would not do another and I would be classed as blind in my right eye. Thankfully, when I had the follow-up appointment after the second injection, my sight was improved enough to be able to qualify for further injections. I then had one injection a month for the next 14 months before the condition was deemed 'stable'. I was left with a dark central region to the right eye and to the outside of this was a greyish circle. I could not see shapes or colours in the centre and limited vision at the outer edges.
In early 2020, I was diagnosed with an inflammatory condition which affected my both shoulders and I started having sessions on the NovoTHOR as it is very effective at treating inflammation. I have received twice weekly sessions on the NovoTHOR for several months now and I am much more mobile with significantly less pain.
Improved vision!
Fascinatingly, I had always been told that the black 'hole' in my central vision would never improve, but I have noticed that since I have been using the NovoTHOR, it has lessened in size and I can also see shapes, colours and outlines where before there were none. The the black 'hole' is reduced in size and is now grey, and more opaque than solid. I have even been able to see further down the chart at the opticians! Whilst I understand that my sight cannot be fully restored, it is good to know NovoTHOR sessions for my pains are also helping my eyes.
Head to toe benefits not just eyes!
How can the NovoTHOR Whole Body PBM Therapy Light Bed Pod help you or someone you know feel better in their golden years? Discover more about:
To book in or find out our treatment fees just follow the links. Alternatively if you wish to speak to one of our team just call 01332 224829.