PBM Therapy for Sport Performance and Improving Exercise Recovery in Footballers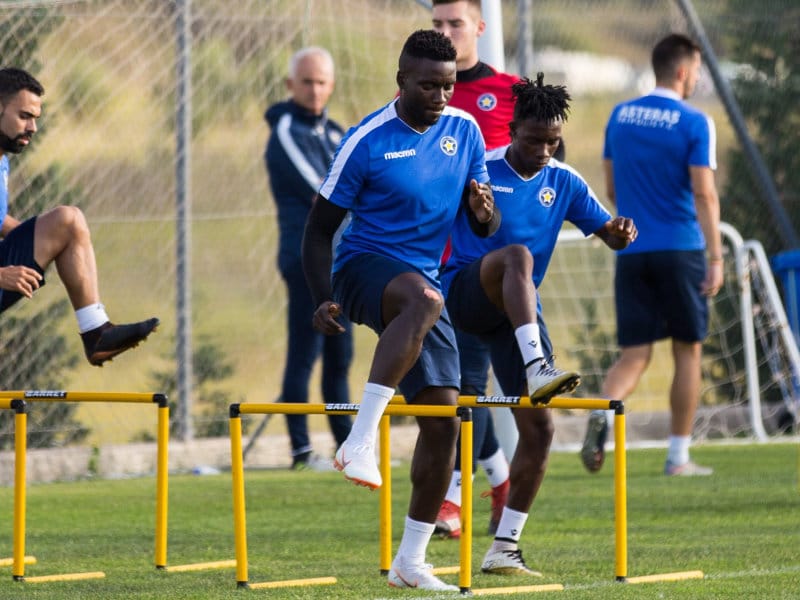 How Can PBM Therapy Help Strength Endurance & Recovery?
Pushed for time to read the post? Watch our 2 minute explainer video.
What did the researchers do?
This triple-blind, Randomized Controlled Trial (RCT) and placebo-controlled crossover trial, was performed on high level football players to evaluate the effects of PBM Therapy applied before a progressive running test. Before and after the running, VO2 max and blood test measurements were taken to establish baseline muscle damage, and inflammatory and oxidative stress markers were done using precise biochemical tests.
For the study the researchers used hand held PBM Therapy machines * the probes was applied to:
Three places on 3 of quadriceps muscles (9 places in total)
Three places on the outside and inside side of the hamstrings group
One spot on the inside and outside part of the Gastrocnemius (calf) muscle
Immediately after the application of active PBM therapy or placebo the footballers performed a standardized high-intensity progressive running test (ergospirometry test) in which they measured rates of oxygen uptake (V02 max) until exhaustion.  The researchers measured aerobic and anaerobic threshold.  Lots of 'chemical' markers which give an indication of muscle damage were measured – Creatine Kinase (CK) and lactate dehydrogenase (LDH), Interleukin-1β (IL-1-β), interleukin-6 (IL-6), and Tumor Necrosis Factor alpha (TNF-α), levels of Thiobarbituric Acid (TBARS),  Carbonylated proteins and Catalase (CAT). Superoxide dismutase (SOD) were measured before and five minutes after the end of the test.
Results were amazing!
For those of you that do not understand statistical P values a P value of 0.05 or less is the bench mark to reach and means the result is significant and means the results were not due to chance.  The smaller the number, the higher (greater) the significance: so a P of 0.005 is 10x more significant than a P of 0.05.
PBM Therapy increased the V02 max (both relative and absolute values-p < 0.0467 and p < 0.0013, respectively),
Time until exhaustion (p < 0.0043), time (p < 0.0007) and volume (p < 0.0355) in which anaerobic threshold happened, and volume in which aerobic threshold happened (p < 0.0068).
PBM decreased CK (p < 0.0001) and LDH (p < 0.0001) levels.
For the cytokines, PBM Therapy decreased IL-6 (p < 0.0001) only.
Finally, PBM decreased TBARS (p < 0.0001)
Carbonylated protein levels (p < 0.01)
Increased SOD (p < 0.0001)and CAT (p < 0.0001) activities.
Conclusion
The findings of this study demonstrate that pre-exercise PBM therapy acts on a large number of different functional/biochemical markers. Pre-exercise PBM Therapy seems to play an important antioxidant effect. Decreasing exercise-induced oxidative stress and consequently enhancing athletic performance and improving post exercise recovery. 
PBM Therapy Clinic comment * The researches did not use whole body PBM Therapy.  Why?  Whole Body Light beds are very expensive and scarce.  There are only about 160 NovoTHOR PBM Therapy light beds at this time in the world and only 6 in the UK.  Hand held devices by comparison are much cheaper and therefore more plentiful.
Whole Body PBM Therapy vs Hand Held PBM Therapy
The NovoTHOR light bed pod surrounds the whole body.  The red and near infra-red light penetrates the body with the potential to affect all the cells that the light interacts with.  Not just local muscle groups but multiple muscles groups all over the body – feet, legs, arms, torso, head, and neck all at the same time.  Our logical conclusion is that this would further enhance the body as more muscle groups get the red and near infra red light (but of course more trials are needed to absolutely prove this!)
There are so many other health benefits that PBM Therapy has demonstrated that are good for Athletes borne out by years of research. One of the most interesting articles this year is research that shows the Mitochondria which PBM Therapy targets, have been found freely moving around in the blood.   This might explain some of the systemic effects PBM Therapy has on parts of the body that the light is unable to reach e.g. deep tissue.
See this RCT on the PubMed data base
More About PBM Therapy In The Sports Arena
THOR ® have collated an extensive body of research evidence for PBM Therapy's effectiveness in aiding sports performance.  Our NovoTHOR® Whole Body Photobiomodulation Therapy bed is an effective way to help you train harder, recover quicker with more endurance.   To read more about its uses and applications:
Or tap/click this lower link or PDF icon to read about:
To review the current extensive world wide open access data base about PBM Therapy just tap/click this link PBM Therapy research.